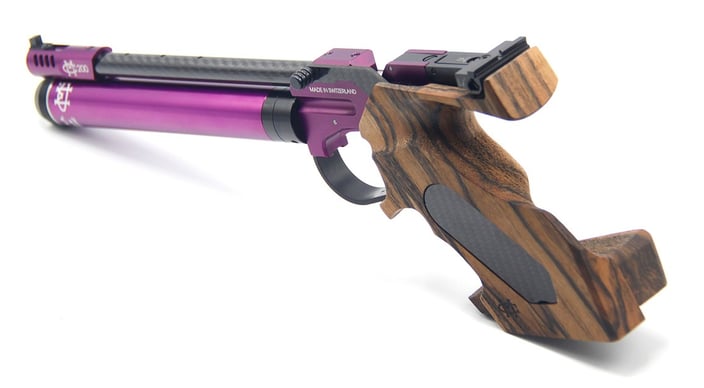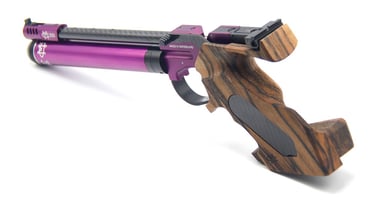 Morini CM 200 EI Limited Edition
Toppmodellen i spesialutgave med nydelig skjefte og lilla farge.
Denne er produsert i kun 250 eksemplarer.
Ønsker du det aller beste og i tillegg i en eksklusiv utgave så er det denne du skal velge. Her får du luftpistol av kjent Morini kvalitet. Karbon på løpet og ladearm i karbon.

Våpenet leveres med 2 luftsylindre med digitalt manometer og koffert.
Pris. kr. 26.990,-



Caliber: 4.5 mm (.177)
Weight: 985 g
Total Length: 400 mm
Total Height: 150 mm
Total Width: 50 mm
Length of Sight Line: From 330 mm to 350 mm
Barrel Length: 230 mm
Type of Barrel: Lothar Walther 6 dx 450 mm
Number of Riflings: 6 Polygon
Functioning: Compressed Air
Trigger: Electronic
Path: 0 - 1.5 mm
Arrest Point: 0.1 - 0.03 mm
First Stage Weight: 300 g - 700 g
Second Stage Weight: 50 g - 300 g
Trigger: Mounted on Micro-Roller Bearing
Voltage: 3 V
Battery Life: 15'000 Firings ca.
Sight: 4.0 - 4.5 - 5.0 - 5.5 - 6.0 mm
Sight Slot: Micrometrically Adjustable
Average Bullet Speed: Vo = 150 m/s
Number of Shot with 200 bar: 150
Grips: Adjustable - Left/Right